Merle Nye: Getting a Handle on the Nigerian Solar Market
His internship was funded by the Energy Access Project, Summer Program, that sponsors student work via internships or research projects that focus on either modern technologies and fuels for cooking or access to reliable, affordable, safe, and sustainable electricity in less developed countries.
Growing up in the Pacific Northwest, I learned how to recycle before I learned arithmetic. Environmental conservation was a core value of nearly everyone around me. This rhetoric was less ubiquitous the my first time living outside this bubble. On my gap year in Ecuador, I worked to implement a recycling program and environmental awareness curriculum at the school where I was teaching. While this would've been applauded in Portland, the program in El Valle quickly fell through. This isn't to say there's no conservation ethic present, but rather that the program completely missed the scope of the needs present. There may be a need for grandiose environmentalist ideas in Portland, but for some houses in El Valle, there was a more pressing need for running water and consistent electricity.
Largely because of this experience, I became interested in social entrepreneurship that provided real economic benefit and heightened quality of life to drive change in environmentally destructive systems. This confluence of purposes jumped out at me when I saw M-Kopa Solar's work in an email from the Duke Energy Initiative in April. M-Kopa specializes in providing affordable solar energy through a rent-to-own model: Customers pay a fraction of the system's price up front, and the remainder in daily or weekly increments over the course of several years, all while reaping the benefits of solar. A SIM card inside the system is able to shut off generating power when a customer fails to make payments. This method ensures repayment and the sustainability of M-Kopa's business model.
With the support of funding from the Duke Energy Access Project, I was lucky enough to spend the first part of my summer working as a part of M-Kopa's team in Lagos, Nigeria. While the company has sold hundreds of thousands of panels in Kenya and Uganda, I arrived in Lagos before the first shipment of panels did and as "employee" number 4 on the Lagos team, having missed being third by a matter of days. My first day on the job, the team quickly brought me up to speed on the market strategy for Nigeria and let me play around with one of the M-Kopa demo systems. The product in Nigeria comes with two solar panels that power the included television, fan, four light bulbs and cellphone charging ports. After a crash course on the product, I spent the next week working on site with a market research company M-Kopa hired for exploring target areas in Lagos.
At first, this meant hitting the road and helping survey households in prospective neighborhoods. Here, I began to grasp the scale of the problem we were working to alleviate. The neighborhoods we surveyed presented a unique blend of cosmopolitan pressures to have things like a charged smartphone (necessary for merchants to communicate in the nearby market) and a lack of infrastructure to support these needs. To counterbalance the ineffective grid, nearly every household has a petrol generator next to the front door. While effective in bursts, fuel and maintenance is expensive. Larger businesses often use diesel generators with fumes invariably spewing toward the sidewalk, making walking or jogging on most main streets a particularly unpleasant experience for all, especially an asthmatic like myself.
We surveyed one particularly disgruntled father who, when asked about his satisfaction with the national grid, replied "I'm not unsatisfied, I'm angry." (He felt our question lacked descriptiveness). Several questions later, a chorus of children screaming came from inside the house. I looked at my fellow interviewers, hoping for a clue as to what happening inside. The father of the household just chuckled and explained the kids had just seen the lights come on. This meant after-school television for the first time in several days.
The research team and I spent the next week using the survey data to create a report summarizing the current energy situation in these neighborhoods and determine the feasibility of M-Kopa systems there. These calculations painted an even bleaker picture of the energy situation. Survey respondents typically spent about 30-40% of their income on electricity, between petrol or maintenance for their generators and their power bill. Despite this proportion, the average respondent had electricity just 40-50% of the time. The typical split between spending on energy sources was 75% on generators on 25% on their energy bill. This energy bill is payed to the Power Holding Company of Nigeria (formerly NEPA) which controls most of Nigeria's grid and provides little consistency for its customers.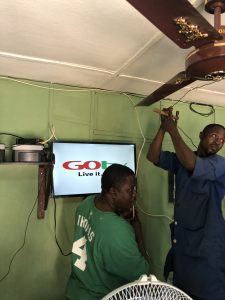 Once the report was finished, I dove into the hands-on work the M-Kopa team was doing to prepare for our launch in Lagos. Initially, this meant helping install the solar system for our first customer in Lagos. While there were some hiccups surrounding mounting the TV and the control units, the effectiveness of the system was immediately evident as the M-Kopa fan provided the installation team a bulwark against the Lagos heat. Also evident was the ability of the product to market itself in a densely populated area, like the one we were working in: Neighbors regularly gathered around to watch the installation and ask questions.
I also spent several days getting an expedited education on Lagos real estate as I toured the area with my supervisor looking at potential service shop sites and office space. Through this tour I began to learn the art of negotiating in Lagos and the backbone required, how many relationships she had to maintain simultaneously to bring M-Kopa's Lagos launch to fruition, and how to identify a suitable retail site in an area that had a high concentration of potential M-Kopa customers. Less related but equally valuable, I learned how to deal with a dead car battery in the heart of Lagos.
In addition to field work, the M-Kopa team included me in all meetings discussing strategy, logistics and product specifics. Several members of the core M-Kopa team in Kenya flew out from the company's headquarters to help guide the launch process in Lagos. Sitting in on these meetings, I was very impressed with how every decision was not only effective in the short term dealing with single-digit systems sold, but also deliberately scalable and equally effective when thousands of units were being sold. Equally impressive was the speed at which the non-Nigerian members of the team were able to familiarize themselves with the local business climate and culture to the point where they could make contextually-appropriate strategy decisions.
           The hardest part of my time with M-Kopa came about a week into reentering the United States. Despite being an intern and a short-term one at that, I'd felt a sense of ownership over the launch in Lagos. The number of full-time members on the Nigeria team doubled in my time at the office.I'd gone from being party to the key decisions and milestones over the company's first several weeks in Nigeria, to spending my free time in DC wondering which shop location the team chose or how the M-Kopa Keke (or Tuk Tuk) vehicle looked with company branding. The thing I missed most was the tangibility of improving household energy situations and consequentially environmental outcomes. Luckily, the Lagos team has been nice enough to include me on weekly conference calls so I'm able to hear the answers to many of these questions. My time with M-Kopa in Lagos was incredible and I'm very grateful to the Energy Access Project and the team at M-Kopa for making this learning possible.