Students Gain Experience with Energy Challenges in Emerging Markets Through Competition
In Nigeria, a nation of 200 million people, less than 6,000 megawatts of electricity flow through the grid—less than one-fifth of the capacity of North Carolina alone. The power system is economically crippling, with households and businesses relying on loud, polluting diesel generators for electricity that cost 3-5 times what Americans typically pay.
A startup company known as Aspire Power Solutions is deploying hybrid solar systems in Lagos, Nigeria's largest city, to try to make electricity more reliable, affordable, and cleaner for businesses and residents. As it expands, Aspire is facing a series of challenges—finding skilled labor, raising financing, and increasing the scale of the company.
On Nov. 5, a dozen student teams from across the United States and overseas came to Duke University for the finals of the Energy in Emerging Markets Case Competition to pitch solutions to Aspire's case. Now in its seventh year, the competition is one of the signature events of Energy Week at Duke.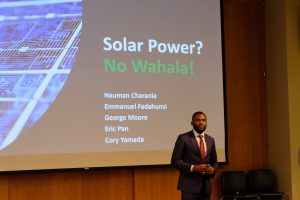 "This has become an excellent event to provide business students—as well as policy, engineering, and students of other backgrounds with interests in social entrepreneurship—practice in mobilizing  business models for development impact," said Jonathan Phillips, director of the Duke Energy Access Project, the sponsor for the competition.
The 12 teams that participated in the competition were drawn from more than 35 submissions. During the first of two sessions at Energy Week, each team got 20 minutes to present its approach to Aspire's case before answering a round of questions from a panel of judges with expertise in the energy sector. The top four teams advanced to an afternoon session in which they had to give another 20-minute presentation that incorporated a "plot twist."
A team of four MBA students from the Haas School of Business at the University of California, Berkeley took the $10,000 top prize. The win was the second in a row for Berkeley, making it the first repeat winner in the competition's history.
In another first, a Duke team landed on the winners podium, finishing second overall. In contrast to the Berkeley team, four of the Duke students are in the first year of the Master of Environmental Management (MEM) program in the Nicholas School of the Environment, while a fifth has started working toward a dual MEM/MBA degree in both the Nicholas School and the Fuqua School of Business.
(Under the competition's rules, each team must have at least one MBA student because of the rigorous financial analysis required for the case.)
To a person, the Duke students said their strength as a team was rooted in their varied backgrounds. They are from four different countries and have a wide range of professional experience, including in engineering, finance, consulting work, and project development.
"It was important to bring a really diverse set of skills and perspectives," said Chris Onorato, the MEM/MBA student on the team. "That made our solutions much more novel and innovative. And we learned how to take advantage of everyone's skills."
Team members said the recognition helps validate what they have been learning in the classroom and inspires them to do more in the energy sector. They also believe it sets the table for interdisciplinary Duke teams to succeed in this competition in the future and build on a strong track record of success at energy and sustainability case competitions hosted by other universities.
"There's always got to be a first, but there's never a last," said Hassan Nadeem, another member of the team.
For all of the participants, one of the biggest takeaways from the competition is exposure to the energy market. Many do not enter as "energy people," but they are interested in the industry and want to get firsthand experience addressing an energy problem, said Adeyemi Oginni, a Duke MBA student who served as a co-chair for the competition.
This year's case spoke to one of the biggest energy challenges in emerging markets—poor reliability in urban areas. Businesses and residents may have access to the grid in cities, but they might only be able to count on a few hours of power a day, Oginni said.
"The teams are solving a real problem that Aspire has," added Zoe Ripecky, an MEM/MBA student who co-chaired the competition and developed the written case material with Oginni. "They're attempting to bring real value to a startup that is trying to do both positive economic development in a country with social and environmental impacts."
Aspire co-founder Tomiwa Igun, who was among the judges, saw that value as he reflected on a day's worth of presentations. Igun said he came away with several good ideas that the company can apply to its work in Nigeria.
"It was an opportunity for us to learn from the diverse perspectives that the students might have," he said. "There's also the credibility that comes with such a well-run event that's been happening over the past few years, so we felt that it would be a good legacy to have Aspire be part of that story."
Aspire became involved in this year's competition in part because of a personal connection to Duke—co-founder Rotimi Thomas graduated from the MEM/MBA program in 2013.
To a large extent, Aspire's participation is representative of the vital networking opportunities that the competition provides. Everyone involved, including participants, judges, and company representatives, gets to know each other throughout the day. Those connections can often prove beneficial.
"After seven years, we have a real network of people who have gone through this program, and it's fun to see how participants have gone on to work in the energy space," said Phillips, the Energy Access Project director. "It has the potential to spawn the type of future collaborations that happen when you bring great people and great ideas together."
University of California Berkeley
Will Bowman, Simon Greenberg, Alan Southworth, and Rebecca West
Duke University
Zukhruf Amjad, Akshay Krishnan, Hassan Nadeem, Christopher Onorato, and Nicolas Villar
Yale University 
Nauman Charania, Emmanuel Fadahunsi, George Moore, Eric Pan, and Cory Yamada